AXIAL WRAITH SPAWN 1/10TH 4WD ROCK RACER KIT
The Axial Wraith Spawn kit version is packed with performance features and option parts that you add as you build it. The virtually bulletproof AR60 OCP axles are ready to take the Spawn through its paces whether blasting through the wide open desert or hammering its way through the toughest rock trails. The 2.2 Maxxis Trepador tires are a proven true grip standard, wrapped around industry proven Method IFD beadlock wheels. Whether you are rock racing or backyard bashing, the Wraith™ Spawn is ready for action.
True 4-wheel drive locked differentials are included for improved traction and an offset pumpkin provides more ground clearance and a better driveshaft angle. Additionally, the rear axle has been shaved of any unnecessary items and steering linkages that normally stick down have been removed for as much ground clearance as possible. The AR60 OCP-Axle is constructed from high strength composite material which has a low flex rate but is not as brittle as standard glass filled nylon. The AR60 OCP-Axle tubes are reinforced and beefed up with a boxed-in axle truss to distribute stress over a larger area. The combination of our axles and a true 4-link suspension gives you optimal performance for any terrain with the look of a real 1:1 vehicle. A locked differential provides the most positive wheel traction in all off-road environments and conditions and requires less maintenance over oil-filled or silicone based differentials. These are easily serviced by removing four screws to gain access for rebuilding and performance tuning as well.
---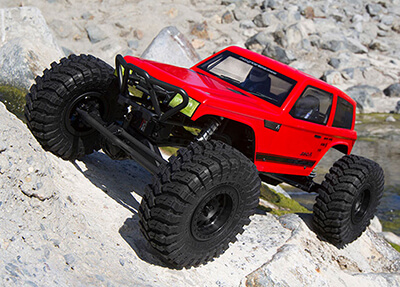 Axial Wraith Spawn Rock Racer
The Wraith™ Spawn is ready for rock spitting, dirt slinging, action. It's designed to tackle the rocks with ease and blast across open desert at full attack speed. Featuring a 4-Link system to provide precise control over the roughest terrain the Wraith™ is tough as nails and the bottom line, there isn't anywhere you can't take this rock racing machine!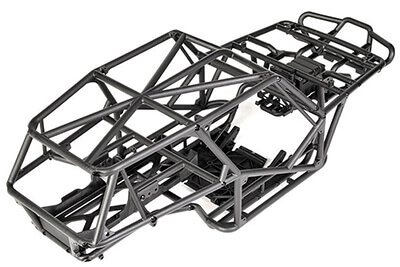 Axial Wraith Spawn Full Tube Frame Composite Chassis
The Wraith™ Spawn 1/10th Scale Electric 4WD Rock Racer features a realistic full tube-frame chassis design that is manufactured with high strength composite materials. Our high strength composite plastic is impact resistant to help protect the Wraith from crash damage. The Wraith™ IS BUILT TO GO FAST and is not just a low speed rock crawler.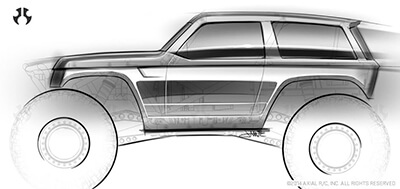 Axial Wraith Spawn Design
For the Wraith Spawn, Axial wanted to create a body that had a classic feel with modern styling. Just as we have seen in the use of retro designs in the auto industry, with cars like the Dodge® Challenger, we have also seen off-roaders use classic trucks in modern builds. To implement this idea, our Design and Marketing teams brainstormed and discussed some of our favourite trucks and SUVs from the late-70s and early-80s. Taking those vehicles into consideration, the Design team then studied the iconic styling cues of these vehicles and began sketching ideas. As a result, we developed those ideas and created a unique retro styled Axial SUV body - the Spawn.

Axial Method IFD Beadlock Wheels and Maxxis Trepador Tires
Officially licensed Method 12 spoke beadlock wheels dressed in an aggressive all black style are easy to assemble and they work with most 2.2 tires. The hub design allows this wheel to mount to any Wraith, AX10 Ridgecrest or SCX10. The IFD™ (Interchangeable Face Design) wheel system makes it easy to dress it up with a new look, if that's not enough the Officially licensed 2.2 Maxxis Trepador tires will help the Wraith over any terrain. The aggressive tread pattern provides excellent traction on mud, rock, sand and everything in between, just like their 1:1 counterpart. These tires also feature a multi-stage staggered shoulder pattern providing improved control, even in the most difficult off-road terrain.
---
Axial Wraith Spawn Features:
Full tube composite chassis
Axial AR60 OCP-Axle (Off-centre pumpkin design)]
2.2 Maxxis Trepador tyres
Method IFD Beadlock Wheels
4-link suspension
Icon aluminium shocks
Dual slipper clutch
Waterproof receiver box
WB8 HD Wildboar driveshafts
Universal Joint Axles
Realistic scale details
Spec Check:
Length: 19.25" (490mm)
Width: 11.2" (285mm)
Height: 9.1" (232mm)
Wheelbase: 14" (355mm)
Ground Clearance: 2.8" (72mm)
Weight: 5.45lbs (2.47kg) with electronics
Please Note: This model is sold in kit format and requires a 2.4Ghz radio system, speed controller, motor, steering servo, paint, battery & Charger and 4 x AA batteries for completion.